"Design of a seat for sit-kitesurfing, with an optimal ergonomic fit to use in surf schools."
To understand the sport better and how the forces behave on the seat itself, an analysis of the movements have been performed. This showed the importance of having a tight fit, in order to have a good translation of the forces of the upper body to the board.
As data about body shape and dimensions are lacking for the target group, 3D-scans and manual measurements with the target group are performed. This led to the conclusion that there are large differences in hip, thigh and back width. But even more in the shape of the thighs themselves.
By obtaining different body scans in the right sitting posture, it is possible to use them for developing the seat.  For the first shape Rhinoceros is used, and later on, exported to Fusion360 fur further embodiment.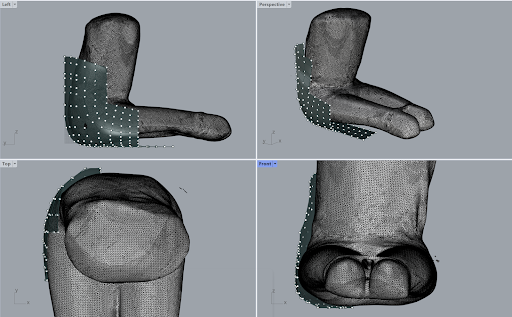 After performing all the research, user interviews and updating the problem definition, ideation could be done. Multiple design directions have been explored, but eventually, the one with the most potential has been chosen.
Early on in the process, quick prototypes have been made using cardboard models and 1:2 scale 3D-printing.
After performing a few iterations based on prototypes made, a full-scale model was 3D-printed. This allowed for assembling and mounting the seat on the existing frame.